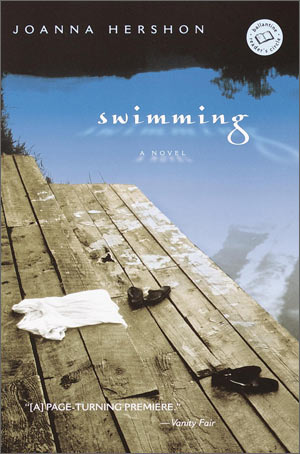 Swimming: A Novel
by Joanna Hershon
I am finally finished with this semester! I ended up getting a 3.94 GPA for this semester and am so glad that those stressful few months are over. Now that school is done and we are moved into the apartment I finally get to relax. Not to mention Alec graduated this weekend and then we threw him a graduation party. Today I spent all day laying in the sun and reading. The entire day! I felt like the day where I had no worries other than when I should go refill my water bottle was never going to come, but it did. I finally finished this book that I have been reading since January. I had it 3/4 of the way completed when the Spring Semester started up and have not been able to pick it up again until yesterday. So, I'm glad to have time to read for fun again and am pleased to share another book review.
The best way for me to describe this incredibly exciting novel is to simply quote one of the reviews on the back of the book:
"Two brothers, one girlfriend, one fateful night at a New Hampshire pond where jealousy rages out of control, and suddenly the life of eight-year-old Lila Wheeler is forever changed.... Living in New York a decade later, Lila-- desperate to know what really happened that night -- begins her search for the terrible truth and the lost brother who harbors it..." -Glamour
This book really is delightful. It starts with a description of their parents new love, flashes forward into the young love of Lila's older brother and his girlfriend, and the last part of the book is told from Lila's point of view ten years later. The love is sweet, the lust is sensual and the regret is fierce. I recommend this book to anyone looking for a summer read.
As always, here are some of my favorite quotes from the novel:
"She didn't bother trying to stop fantasizing. She knew herself better than that."
"A kiss can be as minuscule as a moth or the tiny flame it craves, a torn fingernail or an eyelash; and yet a kiss can be huge. It can be as expansive and dangerous as this one was. It can be the origin of a family."
"She cursed herself for how she couldn't keep her eye on the present or the future..."
"She wondered about love: who had it and when, who has it and why, and if it counted when the one you loved did not or could not quite love you back."
Now, any suggestions for what to read next?